MOTEL ONLINE
Pienteollisuustie 2, 06450 Porvoo
Accommodation in Apathotel Motel Online Porvoo 
Welcome to enjoy and stay overnight in the completely renovated Motel OnLine in Porvoo. The motel is just a 15-minute drive from the Kilpilahti oil refinery area.
Motel OnLine has 28 renovated rooms with private entrances. The renovated sauna area is a great place to relax after a hard day's work, even every weekday evening. The shared kitchen is free for residents to use and it is possible to cook around the clock.
All rooms have two single beds, shower and toilet, TV, refrigerator, kettle and microwave. Residents also have access to a shared kitchen, sauna and gym. The motel has free WiFi and parking.
Reservations for the motel can be made directly online 24/7. You can log in using your smartphone and automatic room locks.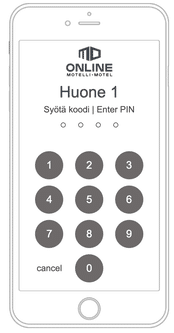 Motel Online Porvoo is now an automatic hotel
Great news! We have updated our booking system and install new automatic locks for all of our rooms.
​
You can now book a room directly from our webpage even late of the check-in date.
The system will send check-in instructions and PIN-code automatically and then you can check-in for your room.
Check below how you can open your room.
1. Open check-in confirmation (SMS or email)
2. Check PIN-code and open the link
3. Set the PIN-code and know three times for the door (lock will wake up)
4. Wait a couple of seconds and the lock will open
5. Open the door
Different Room Types in Motel Online
YOU ALWAYS GET THE BEST PRICE WHEN BOOKING ON OUR WEBSITE, AND YOU ALSO GET…
WASHING MACHINE AVAILABLE

24/7 LATE CHECK-IN WITH AUTOMATIC LOCKS